Even though the Samsung Galaxy S8 and S8 Plus will only launch on March 29, we know quite a lot about the device. The latest leaks concern the color options the handsets will be available in. The information comes from tipster Evan Blass, via a Twitter post. According to the well-known leaker, the upcoming Samsung flagships will be available in three different color variants: black sky, orchid gray, and arctic silver. Of course, this doesn't mean that these will be the only options. According to another globally known tipster, analyst Ming-Chi Kuo, we will get seven color options. There is a possibility that the three main color options will be available globally, while the other four variants will be available only in select countries.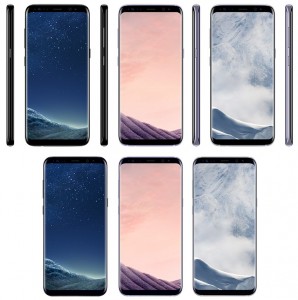 Aside from the available color variants, Evan Blass revealed another important thing about the upcoming smartphones. Their European price tags. The leaker announced that the Samsung Galaxy S8 will have a starting price of €799. Naturally, if users opt for larger storage, the price will change. The price tag of the larger Galaxy S8 Plus will start from €899. Evan Blass didn't stop at revealing the starting prices of the handsets. He also shared with his followers the price of some significant accessories.
According to the tipster, the latest Gear VR headset will hit the shelves with a €129 price tag. The company's Gear 360 camera will set customers back €229. Another interesting accessory for the Galaxy S8 and the S8 Plus will be the DeX. This gadget allows users to connect their smartphones to a monitor and a keyboard. This way, the smartphone basically can turn into a desktop computer. The DeX will cost €150, according to Evan Blass.
Both smartphones will have OLED displays. The Galaxy S8 will feature a 5.8-inch screen, while the S8 Plus will be larger, with a 6.2-inch display. Both handsets will run on Android, and will be powered by Qualcomm's Snapdragon 835 chipsets in the United States. Other versions of the smartphone will feature Exynos 9 processors. Other features of the smartphones include a 3.5mm audio jack, dual rear cameras, a USB Type-C port, a microSD card slot, and a new design.
There are only nine days to go until the big reveal. The company will unveil the handsets at the "Galaxy Unpacked" event on March 29. Then we will find out everything there is to know about the South Korean tech giant's flagship devices. Keep in mind that none of the aforementioned features were confirmed by the company, so we might have some surprises when the smartphones will be officially revealed.
Source: Evan Blass