We now live in a digital era, where the majority of people choose to take instant photos instead of developing traditional films. Even though digital cameras nowadays are extremely performant, there still are photographers who prefer analog photography. Unfortunately, in order to develop films, one needs a lot of supplies, including a darkroom. Or at least, that was the case until now. Ars-imago launched a Kickstarter project to fund their LAB-BOX. This innovative piece of technology allows users to develop their films a lot more easily, even in full daylight. Thanks to the small size of the product, it is quite portable, so photographers can use it anywhere, anytime.
This modular daylight-loading tank works with both 135 and 120 film formats. All users need to do in order to develop their film rolls is insert the exposed roll into the appropriate module and wind it into the reel. After this, they need to add the developing liquid and agitate. Depending on the liquids poured in and out, users can process their films any way they want. The process is not only easy, it is also quite fast. Not only professional photographers can use it, it is also suitable for travelers and amateurs. Users can create black and white or color pictures.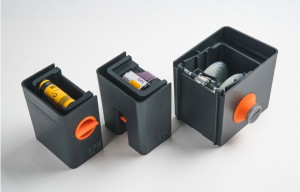 The design and prototyping were carried out by VIVO Design Studio, in Rome, Italy. After a great deal of testing, the team was able to optimize both the design and the size of the LAB-BOX. The final product features a 120 module, a 135 module, a cutting knife guide, a reel, a cutting lever, a film guide, a sealing screw, an outer knob, a lid and a tank. The Box measures 124mm x 182mm x 98mm and it weighs only 700 grams. It easily fits into a bag or backpack, making it ultra portable.
The project turned out to be a major success. With eight more days to go, it already managed to raise over 821% of its goal. This means that the LA-BOX will soon go into mass production and will start shipping in September. Early birds could get their hands on the device by pledging €89 or more. For €1790 or more backers could get 20 LAB-BOX devices and 2 different modules. Given the fact that the crowdfunding campaign went well and it reached a number of stretch goals, customers will get to choose from several colors, they will get an additional crank for agitation, one extra multi-format reel, and a washing funnel.